BROWSE


Cook Books

Inspirational Books

Children, biography




We Accept Credit Card Payment




A Feather For My Wing: A Life Lost, A Life Regained


Author :
Marilyn Carpenter
Category :
Other
ISBN :
0-942407-40-7
Price :
$ 13.95
Pages :
96
Add to Cart...

This is an incredible true story of healing and rehabilitation after a devastating Stroke. Marilyn Carpenter was an active, vivacious person and successful professional educator until she had a stroke. She tells the story of her recovery in her own ineffable way, explaining her journey back to mental and physical health and describing in detail the emotional roller coaster that brought her back to living as a whole, functional, fulfilled person again.

Excerpt from Introduction:
A Feather In My Wing is optimistic, filled with hope for the reader. While it validates just how devastating losses such as a stroke can be, it also challenges the reader to do more than accept the role of victimhood or survivorship, and to find the healing, love, and forgiveness that will give us the presence of mind to experience joy when it is possible. The amazing thing is that, once we relinquish the "happily ever after myths" from childhood, life can be what it is-times of suffering, times for healing, and times to celebrate and appreciate the fullness of life.
John M. Schneider, Ph.D.
Professor Emeritus
Michigan State University
Author, Finding My Way


About the Author

Marilyn Carpenter is a former school teacher and school administrator with 20 years experience in the field of education. She also has been an educational consultant with emphasis on classroom management and instruction.
In 1993 Dr. Carpenter's left vertebral artery spontaneously dissected and sent a blood clot to her brain. Since her stroke, she has had numerous speaking engagements and continues to share the story of her life after her stroke. As a wife and a mother she has begun a new career as a writer. She was first published in 1994 in the book Urban Education with her critique of the book Children at Risk in America: History, Concepts and Public Policy. In 1997 INTEGRA, an East Lansing, Michigan, Integrative and Transformative Grief Association, published an article she had written which promoted a follow-up speaking engagement and her book, A Feather For My Wing.
Dr. Carpenter has a Bachelor of Arts in elementary and secondary education and an elementary and secondary principal's Masters degree. Her doctorate is in educational administration from the University of Arkansas at Fayetteville. She and her husband, David, reside in Maumelle, Arkansas, and they have one son, Marcus, who attends the Eastman School of Music in New York.
Title of the Month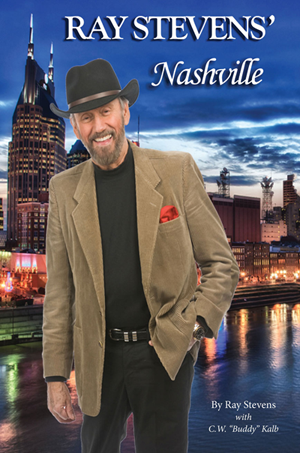 Ray Stevens' Nashville is the story of a Nashville legend who has seen many changes during the last fifty plus years. Ray takes us along on his American Dream journey from the little mill town of Clarksdale, Georgia, where he was born, through his school days in south Georgia, to his early recording experience with friends like Jerry Reed and Joe South in Atlanta under the tutelage of Bill Lowery. Then, on to Nashville– Music City USA–where he established himself as not only a world famous recording artist but, as one Nashville star recently said, as "The most talented man on Music Row."
Author : By Ray Stevens with C.W. "Buddy" Kalb
Category : Inspirational Books
ISBN : 9781935802228
Price : $ 19.95