BROWSE


Cook Books

Inspirational Books

Children, biography




We Accept Credit Card Payment




Bear Tunes For Kids by Brent Holmes, CD


Author :
Brent Holmes
Category :
CD
ISBN :
0942407-60-1
Price :
$ 14.95
Playing Time :
58 minutes
Add to Cart...

A Collection of Bear Tunes. Great Music for singing, dancing and learning for Ages 1-101.

Bear Tunes For Kids features the fine vocals of Bernie the Bear and Brent Holmes. The only CD ever produced all about bears, the songs help children learn about counting, multiples, forest animals, and, of course, bears. It contains 12 "Beary Silly Songs" followed by a beary educational spoken track: "Fun Facts About Bears". Lyrics enclosed.

1. I See A Bare Foot Bear
2. I Cant't Wait to Hibernate
3. My Paw's Bigger Than Your Paw
4. Back Pack Tree
5. The Peanut butter Bears
6. There Ain't No Bugs On Me
7. Bears Have Coats Of Many Colors
8. I've Been Diggin' Out My Bear Den
9. A Bear With A Fiddle In The Middle Of The Woods
10. I'm A Bug Chubby Bear With A Furry Little Tail
11. When you Find A Bear Cub's Teddy Bear
12. Fur
13. Fun Facts About Bears


About the Author

Brent Holmes is a singer, a songwriter and a humorist. He lives near Nashville, Tennessee on a pleasant piece of land which he shares with one horse, one cat and two sheep. His humorous songs have been recorded by Ray Stevens, Jerry Clower, Minnie Pearl and Williams & Ree.

Reviewers:
E. Kinney (Columbia, MD) OK, I'm a step-mom and not all of my gifts to the kids are exactly hits, but I bought this album and the "Moose Tunes for Kids" while the boys (7-year old twins), Dad and I were on vacation this summer and they were both instant hits. The boys wanted to hear both albums over and over again on the 10 hour ride home. Fortunately the songs appeal the adults as well as kids and so Dad and I were not going crazy after the 10 hour concert. They were such a hit that Mom asked to borrow them when the boy went on vacations with her latter that summer.

Janann (rural Iowa) Our whole family loves this CD. We listen to it all the time. Everyone from little ones to adults will love the fun and silly songs. And it is also very informative, you just can't help but learn something new about bears. My husband has even played it for his friends when they have been on hunting or fishing trips and they find that they can't help singing bear tunes!

Noel Hudson (Houston, TX) This is a terrific CD of catchy tunes, all about bears, which we received as a gift. Our <1 year old son smiles wide and 'dances' every time he hears it, and mom and dad also enjoy it since the music is pleasant and soothing, not frenetic like many CDs for children. As transplants from the Pacific Northwest we especially like the song about the backpack tree! Many of our friends have commented on how they would like to find this CD, and we are delighted to find it here so we can share the fun.

A music fan -Very entertaining and informative. For those who know a great deal about bears and for those who know nothing it's a fun hour. Great for kids and adults.
Title of the Month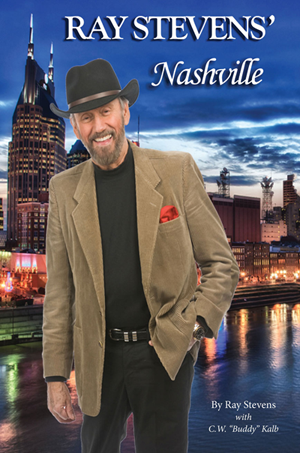 Ray Stevens' Nashville is the story of a Nashville legend who has seen many changes during the last fifty plus years. Ray takes us along on his American Dream journey from the little mill town of Clarksdale, Georgia, where he was born, through his school days in south Georgia, to his early recording experience with friends like Jerry Reed and Joe South in Atlanta under the tutelage of Bill Lowery. Then, on to Nashville– Music City USA–where he established himself as not only a world famous recording artist but, as one Nashville star recently said, as "The most talented man on Music Row."
Author : By Ray Stevens with C.W. "Buddy" Kalb
Category : Inspirational Books
ISBN : 9781935802228
Price : $ 19.95