BROWSE


Cook Books

Inspirational Books

Children, biography




We Accept Credit Card Payment




Cold Before Morning: A Heart-Warming Novel About a Florida Pioneer Family


Author :
John Paul Jones Jr
Category :
Other
ISBN :
0-942407-18-0
Price :
$ 19.95
Pages :
227
Add to Cart...

Cold Before Morning is a simple yet powerful novel of a Scottish family's emotional and heart-warming romance and daily conflict with pioneer Florida between 1854 and 1913.

The James McCredies arrived in Micanopy, Florida, one of the state's oldest communities, just in time to get involved in the Third Seminole Indian War, then the Civil War, followed by years of Reconstruction and Yellow Fever epidemics. During those same years, North-Central Florida experienced the "Orange Fever" that drove men to acquire large acreage of citrus trees as they sought to build empires with Victorian homes and extensive bank accounts from their trees of "yellow gold."

The winter of 1894-95 however, was the citrus man's waterloo. It went down in history as "The Great Freeze." Groves were wiped out and families went from rages to riches and again to rags in one generation.

The title, Cold Before Morning, symbolizes the heartaches, the murders, the thievery, the mysteries, the accidents that took men before their time, and the diseases that caused family tragedies that only the strong could endure. The story also portrays the happiness of courtship, the fulfillment of marriage, and the building of strong families in the face of these hardships.

The McCredie family was a real family, the principals of which are all dead, buried in cemeteries in Micanopy, Ocala, Rochelle and Gainesville. This is their story, told by James McCredie's grandson.

About the Author

John Paul Jones, Jr, was born in Micanopy, Florida in 1912 and was raised in Gainesville, the son of John Paul Jones and Lorna Doone McCredie, daughter of James McCredie, the visionary father in Cold Before Morning. Paul taught journalism at the University of Florida for thirty years and is Dean Emeritus of the University of Florida College of Journalism and Communications.

During his 60 years in journalism, Paul has written documentary movie scripts, been a radio newscaster, newspaper editor and reporter, freelance magazine writer, magazine editor and publisher, university journalism teacher, educational television journalism lecturer, and historian. In 1981, he founded and is now editor and publisher of Florida Living magazine in Gainesville, where he has researched and featured more than 90 in-depth profiles of Florida cities. Paul has written five journalism textbooks, three poetry books, numerous articles for national and regional magazines and the novel Cold Before Morning.

Paul is a member of Phi Beta Kappa, Phi Kappa Phi, Florida Blue Key and The Society of Professional Journalists.

Reviewer: Janis Brown :WONDERFUL HISTORICAL EPIC
Since I live in the area where the characters originate, I find the story exciting and very intensive. There is a great amount of interesting history in this area. The writer brings the era and people to life, like you are actually there. I have gone to the Micanopy Cemetery and have located some of the McCredie sites. I want to research the town more and the existing stores, as to which were what in 'the beginning'. I also plan to visit the other cemeteries where the family members were buried, and living relatives, wherever they may be. I look forward to reading other books by this author. They are available in the Thrasher Mercantile store which is a museum at this time. Wonderful little town to visit.
Title of the Month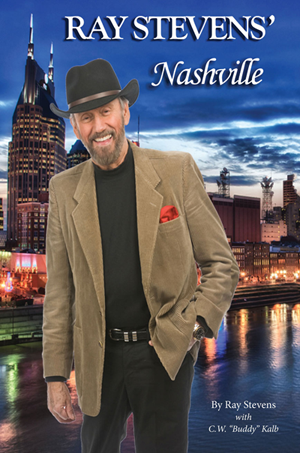 Ray Stevens' Nashville is the story of a Nashville legend who has seen many changes during the last fifty plus years. Ray takes us along on his American Dream journey from the little mill town of Clarksdale, Georgia, where he was born, through his school days in south Georgia, to his early recording experience with friends like Jerry Reed and Joe South in Atlanta under the tutelage of Bill Lowery. Then, on to Nashville– Music City USA–where he established himself as not only a world famous recording artist but, as one Nashville star recently said, as "The most talented man on Music Row."
Author : By Ray Stevens with C.W. "Buddy" Kalb
Category : Inspirational Books
ISBN : 9781935802228
Price : $ 19.95