BROWSE


Cook Books

Inspirational Books

Children, biography




We Accept Credit Card Payment




Embrace An Autumnal Heart: An Accrual Southern and Civil War stories, including Fatal Shadows, Little Round Top and the River of Death


Author :
Jesse Earle Bowden
Category :
Other
ISBN :
0-942407-68-7
Price :
$ 24.95
Pages :
448
Add to Cart...

Autumn leaves fall gently and metaphorically in these stories robustly resonating with timeless yearning. In lyrical, word-picture prose, Jesse Earle Bowden distinctly enlivens indelible characters and their episodic seasons. In wondrous meditations, he remembers Pearl Harbor, "Goin Jookin," "The Goat Philosophy"; "Fatal Shadows" for three Alabamians enduring Gettysburg and Chickamauga. In six fictional stories, Bowden recreates one of Florida's last public hangings, a deadly Choctawhatchee River gun battle, memories of "The "Gopherpuller"; mystery man with "The Hidden Scar." "Dead Man's Journey" shapes the early legend of Florida Governor Fuller Warren. Family stories depict country humor in "The Icehouse," "The Hermaphrodite," a father's enduring gift in "A Christmas That Lasts," dark aftermath of brutal murder; last days of a loving mother drawn "Gently Into the Shadows." He profiles West Florida writer E. W. Carswell, country singer Hank Locklin and Air Force General Daniel (Chappie) James. Bowden continues the West Florida life and times eloquently voiced in his Always the Rivers Flow, When You Reach September and best-selling novel, Look and Tremble.

About the Author

Editor emeritus of the Pensacola News Journal, Jesse Earle Bowden was editor-in-chief and vice president of the newspaper for thirty-one years (1966-1997) in an active career spanning fifty years in Pensacola. Since 1983 he has been a faculty associate in the Department of Communications at the University of West Florida, teaching journalistic writing courses for twenty-two years.
Author of eleven books, Bowden wrote The Write Way, An Editor's Guidebook for Students of Writing, a textbook used by students in his University of West Florida classes. The Florida State University journalism graduate collected more than 1,200 of his editorial cartoons and illustrations in the book, Drawing from An Editor's Life, and co-edited The Emerald Coast Review, an anthology published by the West Florida Literary Federation, which installed him in its Hall of Honor. In 1985, University of West Florida awarded Bowden as honorary Doctorate of Humane Letters.
A pioneer of Pensacola's historical preservation movement, Bowden has served as chairman of the Historic Pensacola Preservation Board since 1982, and became president of West Florida Preservation, Inc., when the state board's operations were transferred to the University of West Florida in 1991. The preservation program headquarters is named the J. Earle Bowden Building in downtown Pensacola.
Known as the "father" of Gulf Islands National Seashore for his long editorial campaign to establish the national seacoast park in Florida and Mississippi, Bowden was named an Honorary Park Ranger by the Secretary of Interior. Escambia County Commissioners named the seashore highway on Santa Rosa Island as "J. Earle Bowden Way."

Reviewer: William S. Cummins (Pensacola,FL)After almost a decade, Earle Bowden returned to writing about rural Northwest Florida. "Embrace an Autumnal Heart" begins with nostalgic rememberances of the author's childhood in the 30s and 40s in the community of Altha 16 miles south of Marianna, Florida. His series of stories under the caption Fiction have some factual bases. My two favorites areThe murder of federal revenue agent "Pistol Pete" Bowden (no relation to the author)and the story of the truck driver whose load was a coffin with a newly executed prisoner being transported to his home town for burial is a classic as the driver is arrested because the sheriff figured the coffin was loaded with moonshine whisky. It took the Governor and a future Governor to come up with a solution. Bowden is a master when it comes to simplifing complicated Civil War Battles. Here he reviews Gettysburg and Chickamauga not only from an overall perspective but also from a regimental and ordinary soldier's view. Three of his ancestors had served in Alabama units in both battles. Naturally he could not neglect the Battle of Santa Rosa Island. Ft Pickens is on Sanata Rosa Island and may have been the location where the war actually began. It is a cause celebre in Pensacola and since Hurricane Kathina will not be visted by car for a long time. Other articles deal with memorable local people: historian EW Carswell, Pensacolia born General Daniel (Chappie) James and western singer Hank Locklin. Other articles are entaining,either evoking a belly laugh,nostalgia or sadness. All are a social commentary on Northwest Florida from Pensacola to Madison County and all from the pen of an author who knows and is proud of his heritage.

Reviewer: Angelyn Mobley (Panama City, FL)Jesse Earle Bowden's latest book, EMBRACE AN AUTUMNAL HEART, is his bet yet. With the precision of the poet's quill, he captures the essence of life as seen from the J.W. Bowden Grocery Story in Chipola Country of Northwest Florida. He shares his memories of the down-home folks who always have time to invite you in to set a spell. From the backwoods gopher puller who catches land turtles for food, to the picturesque icehouse that provides 50-pound blocks of ice for those who don't have refrigerators, life flows like the currents of the Chipola and Apalachicola Rivers that run through the county. His recollections of World War II from the vantage point of a country boy on the edge of his teens, will trigger your own long forgotten memories of that era. In the historical section titled "Fatal Shadows" he writes from his lifelong study and knowledge of the Civil War. He mined the documented records to trace the lives of his three Alabama grandsires in the Gettysburg and Chickamunga battles. Using tools of fiction to resurrect the torment of the 1860s, he parallels novelist Shelby Foote's masterpiece, THE CIVIL WAR: A NARRATIVE. Bowden's account is a concise presentation of the Civil War that will intrigue history buffs of all ages. In writing nonfiction, he paints picture-making immediacy, and employs tools of fiction to good advantage in crafting nostalgic stories resonating with heart, spirit and universal remembrance. You will chuckle as he reveals the foibles of real Cracker politics, including little known facts about Florida governors of the past half century, many of whom he knew personally. He writes of the horror and anguish of a family member's murder, from the wife discovering her husband's butchered body, to capture and trial of the guilty perpetrators, and be haunted by the callous disregard for human life. EMBRACE AN AUTUMNAL HEART has wide appeal because of its many facets, including nostalgia, the Civil War, Florida politics and murder, all presented in Bowden's distinctive style. The book is a literary enrichment and well worth your time spent reading it.

Reviewer: Seldon Pierce (Cantonment, FL)I am a great fan of J. Earle Bowden and have five of his books in my library. I feel that he has reached his writing pinnacle in his latest work, "Embrace an Autumnal Heart." The 448 page novels starts with the excitement of a 13 year-old boy on December 7, 1941, when Japan attacked Pearl Harbor and changed, forever, the world, awakening a sleeping giant and bringing the U.S. onto the world stage as a super power. The first seven chapters of the book tell of quickening changes in the life of a boy coming of age in a bucolic setting in Northwest Florida. Then Bowden does some of his best fiction writing. He begins with a realistic rural hanging, tells of some of the Great Depression hardships, the story of a soon-to-be, Florida governor's part in getting the body of an electrocuted criminal's body home to his grieving mother. He tells of now-gone Panhandle leaders such as Judge J.W. Carswell, General Daniel (Chappie) James, country music star, Hank Locklin and others whom Bowden knew personally. The language of the book is classic Bowden, with descriptions and situations written so brilliantly that you are actually transported there by the power of sentence structure that can only come from the pen of a master story teller. I highly recommend this book to those who love history and especially those who lived during the last half of the 20th Century.
Title of the Month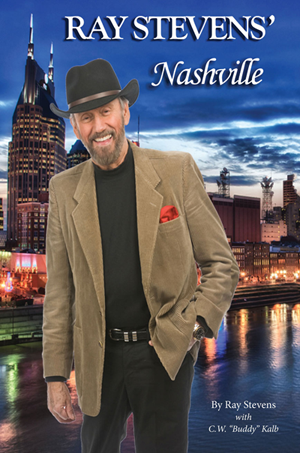 Ray Stevens' Nashville is the story of a Nashville legend who has seen many changes during the last fifty plus years. Ray takes us along on his American Dream journey from the little mill town of Clarksdale, Georgia, where he was born, through his school days in south Georgia, to his early recording experience with friends like Jerry Reed and Joe South in Atlanta under the tutelage of Bill Lowery. Then, on to Nashville– Music City USA–where he established himself as not only a world famous recording artist but, as one Nashville star recently said, as "The most talented man on Music Row."
Author : By Ray Stevens with C.W. "Buddy" Kalb
Category : Inspirational Books
ISBN : 9781935802228
Price : $ 19.95