BROWSE


Cook Books

Inspirational Books

Children, biography




We Accept Credit Card Payment




Grab A Bag Cookbook: Recipes That Begin in a Bag with the Dry Ingredients and are Completed Later with the Liquid Ingredients


Author :
Frances Barrineau
Category :
Cookbooks
ISBN :
0-942407-51-2
Price :
$ 15.95
Pages :
208
Add to Cart...

Recipes that begin in a bag with the dry ingredients and are completed later with the liquid ingredients when ready to be prepared.

Excerpt from the Introduction:
I have developed the recipes in this book because I wanted to control the ingredients in the bag, and at the same time, I wanted a quick alternative to frozen meals. Instead of cooking meals in advance and freezing, to use at a later date, I choose to prepare the bags in advance, buy the additional ingredients needed to complete and stock my pantry shelf rather than my freezer shelf. I find the food is fresher and easier to prepare. It also tastes better. The bags travel better than frozen foods, when preparing the recipes outside of your kitchen.
Since the bags and additional ingredients do not need refrigeration, it makes them perfect to take on camping trips, on vacation trips, for college dorms, parties, family gatherings, unexpected guests, and gifts. Husbands and older children love the bags when mom has to be away. They can cook and have good meals with the easy to follow instructions. There aren't a lot of pots and pans to wash either, since most of the recipes can be completed with just one utensil.

About the Author

Frances Barrineau is a native South Carolinian. She was born, educated, married and had her first daughter in Lancaster, South Carolina. After leaving Lancaster for thirty-five years, she returned with her husband to retire there. She and her husband of almost forty-five years have three daughters and five grandchildren, which includes twins. She says, " I am an American by birth but a Southerner by the grace of God!" "There is really no other place anywhere quite like the South. I love the place of my birth." Frances had her first cookbook published in 2000, at the age of sixty-three. "Now I have completed by second book at the age of sixty-five, so I say to all of you, you are never too old, to follow a dream!" She loves to create and come up with new ideas. She says, "The new ideas are really no fun without someone to share them with." The cookbook is her way of sharing recipes and great ideas with her friends and fans.

Reviewer: My wife has a very busy schedule raising three children and working, This book has significantly improved the quality of meals in our house while reducing the time spent in the kitchen. The other benefit of this book is it has eased the turmoil of preparing the weeks grocery list and saved us money and time. For anyone with a hectic lifestyle who likes to eat (not at restaurants all of the time) this book is for you. I'm not 12 I'm really 39 but the computer is smarter than me.


Reviewer: (Oceanside, CA) -I bought this book at a craft show a year ago and life in the kitchen has been a breeze. The recipes are easy to follow and produce great results. The other significant benefit of this book is the fact it saves time making up the grocery list, saves time and money at the store. I recommend this book for families that have both partners working, large families, and for those of us who are single, love to eat and are tired of eating at restaurants.
Title of the Month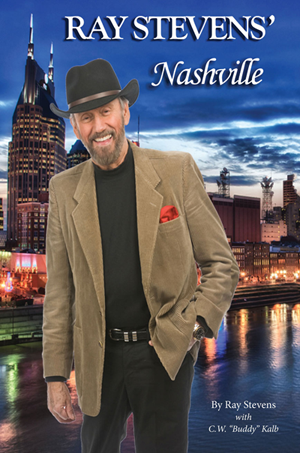 Ray Stevens' Nashville is the story of a Nashville legend who has seen many changes during the last fifty plus years. Ray takes us along on his American Dream journey from the little mill town of Clarksdale, Georgia, where he was born, through his school days in south Georgia, to his early recording experience with friends like Jerry Reed and Joe South in Atlanta under the tutelage of Bill Lowery. Then, on to Nashville– Music City USA–where he established himself as not only a world famous recording artist but, as one Nashville star recently said, as "The most talented man on Music Row."
Author : By Ray Stevens with C.W. "Buddy" Kalb
Category : Inspirational Books
ISBN : 9781935802228
Price : $ 19.95