BROWSE


Cook Books

Inspirational Books

Children, biography




We Accept Credit Card Payment




HOMESTEAD


Author :
Betsy Bishop Thomas
Category :
Other
ISBN :
0-942407-72-5
Price :
$ 23.95
Pages :
352
Add to Cart...

Homestead by Betsy Bishop Thomas gives an intimate look at the struggles and triumphs of people living in rural Northwest Florida in the late 1800s.
With no conveniences at their rustic, hand-built homes, and with outside communication only by horse riders or the firing of a gun to indicate an emergency, people turned inward - relying on their families almost entirely.
The nearest doctor is many hours away by horseback. Trips to a faraway town's store or to an equally faraway church are rare. Letters sent to or from the post office might be months reaching their destination.
Their food comes almost entirely from animals and poultry raised on the homestead and crops grown on the acreage. Bathing is done in a washtub, when there's enough rainwater.
The women work just as hard as the men - sometimes inside the houses, sometimes outside in the fields and the barns. Gossip is pervasive, perhaps an entertaining respite from the rigors of daily life. Yet, when trouble looms or help is needed, neighbors rally.
Thomas follows the lives of Nate and Melissa York, from the time of their meeting, through their marriage with all its hardships and difficulties, including the death of their first baby, up until the time their home becomes a haven for children previously mistreated in other environments.
Nate can't read or write, but Melissa, 17 years younger, teaches him, and both eventually come to share a full understanding of religious faith after a series of tragedies and mishaps tests their beliefs.
But while Nate and Melissa may get top billing, the roster of other people also is large. The author's narrative peels back the many layers of the various characters' heroics, as well as their shortcomings and perversities, demonstrating, sometimes graphically, that these "good old days" were all too often something far from good. Not all the characters are human. There is Dewey, Nate's horse, in particular, who is truly like a brother to the man, whose parents lost their lives in a criminal attack when he was just a child.
Overall, it's an interesting read, not just for those who may have been raised in rural environments, but for anyone who likes to explore character development interwoven with a regional lifestyle, speech patterns and culture.

About the Author

Betsy Bishop Thomas grew up on the homestead property her grandfather settled in the 1800s in Northwest Florida. He told her many stories about the homesteading days, and although the book is totally fiction, it is based on the way things were during that era.
She graduated from Florida State University with a degree in journalism and later received a Master's in Public Administration from the University of West Florida. A retired Florida social worker, she now resides in the Ft. Walton Beach, Florida area with her husband who is a retired USAF fighter pilot. She has two daughters, four stepsons and ten grandchildren.

Review: Jean (Florida) Betsy Bishop Thomas brings to life the raw, hardscrabble frontier of pineywoods West Florida in her revealing novel, Homestead, published by Father & Son Publishing, Inc., Tallahassee. And her subtitle tells it all: An Epic Rich With Emotion In the Post Civil War South. Rather than merely imaginative writing, Thomas craftily turns her own family ancestry-dating from her grandfather's homesteading in the Florida Panhandle in the 1800s-into the real hard but rewarding life in the region centering on Santa Rosa County. Here characters are delicately sculpted from the realities of the time when pioneers drew their sustenance from the precious closeness of the land, and its many laborious hardships tested in their beliefs and faith in God and the Hereafter. More, she's crafted a touching love story and the evolution of a family, tracing the lives of Nate and Melissa York from their quick courtship, marriage, death of a their first child, and building a home that serves as a haven for other youngsters once dogged by mistreatment by others. There are many layers on trouble and conflict involving other interesting characters flooding their wilderness lives. And in their travail-including building a homestead and a church, an illicit affair, revenge, murder on the Yellow River, a fire that nearly claims their lives-they grow toward as shared common religious faith that is the central theme of their human values. Yet the real value of Thomas' epic comes from the detailed hardships of their struggle and the speech patterns and wilderness culture-word pictures capturing the old lost times the westernmost corner of the Florida Panhandle, also illustrated a profusion of telling sketches by artist Georgia Williams. Peggy May of the Northwest Florida Daily News says of Homestead: "Overall, an interesting read, with the author peeling back many layers of various characters' heroics, as well as their shortcomings and perversities, demonstrating, sometimes graphically, that the 'good old days' were sometimes far from good." The author captures the essence of her revealing, trouble-laden story in the concluding lines: "The house was safe, too, and when Nate thought about it a little more on the way to the house, he knew he couldn't leave. After all, they were keepers of the land. They were strong, hearty stock who had their God to see them through, They were homesteaders, and they would never leave!" A Florida State University graduate and retired Florida social worker residing in the Fort Walton Beach area, Betsy Thomas casts in fictional structure many of the experiences of her ancestors, yet she's quick to point out most elements of the story are entirely imaginary. Besides an FSU journalism degree, Thomas earned a Master's in Public Administration at the University of West Florida in Pensacola.


Reviewer: Bertha Atwood,93 (Navarre, FL)With her gifted pen, Betsy Thomas takes us back to the time of homesteading in the Florida Panhandle. We live with Hank and Melissa in their little cabin, sharing their toil and pleasures in the everyday style of the era. We have no next-door neighbors, but family can be summoned by bell, or gunshot, in time of need. All the characters have individual personalities marked with virtues and weaknesses that make them real. The story line moves forward building interest page by page. Thus, with a setting carefully researched; characters that are true to life; and a story to tell, we have a book to enjoy from beginning to end.


Reviewer: Ashley Baudoin (Hattiesburg, Mississippi)I started this book with the idea that it was a book about the past that would simply serve as a History lesson. WOW was I wrong. What a History lesson I got!!! The author got inside of my head and planted visions of the characters and their surroundings. For three days (that's all it took me to read it because I couldn't put it down) I lived with the characters. I began to think of them as real people and became enthralled by their lives and the drama surrounding them. I began to look at my everyday life in a whole new way. Great read!!! Recommended!


Reviewer: Paige (Ohio) From the first page, this book takes the reader to another place and time. The characters are described and developed so well that they become real and the reader becomes emotionally attached and unable to put the book down. I found myself late for appointments, and burning dinner because I was so wrapped up in what was happening to Nate, Melissa, their friends and families. Just when I thought I knew what was about to happen, the author would throw a curve. Homestead gives the reader insight into Southern life in the mid 1800's in a most unique and entertaining way. This book has it all and is perfect for summer reading or a special gift. My new favorite!
Title of the Month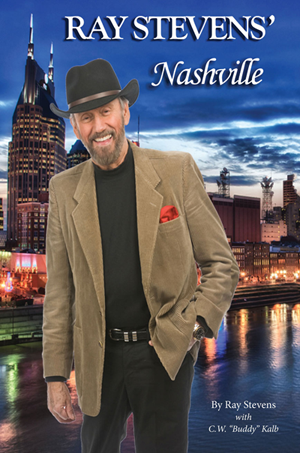 Ray Stevens' Nashville is the story of a Nashville legend who has seen many changes during the last fifty plus years. Ray takes us along on his American Dream journey from the little mill town of Clarksdale, Georgia, where he was born, through his school days in south Georgia, to his early recording experience with friends like Jerry Reed and Joe South in Atlanta under the tutelage of Bill Lowery. Then, on to Nashville– Music City USA–where he established himself as not only a world famous recording artist but, as one Nashville star recently said, as "The most talented man on Music Row."
Author : By Ray Stevens with C.W. "Buddy" Kalb
Category : Inspirational Books
ISBN : 9781935802228
Price : $ 19.95