BROWSE


Cook Books

Inspirational Books

Children, biography




We Accept Credit Card Payment




Look and Tremble : A Novel of West Florida


Author :
Jesse Earle Bowden
Category :
Other
ISBN :
0-942407-53-9
Price :
$ 21.95
Pages :
304
Add to Cart...

Ring Jaw-sleepy Chipola River country town-flashes back woods-toughened West Florida characters and their violent lives of the 1930s and 1940s.

Chance Cahoon left at 15; thirty years later, seeking his ancestry, he returns to the haunted river shoal, Look and Tremble, scene of murder, ghosts-violent episodes told by his grandfather, Sol Cahoon, Old Man of Ring Jaw.

World War II hero Roscoe Ransum, Chance's father, haunts his boyhood with hard lessons of manhood. Chance's ironic journey coincides with a murder in Mobile, climaxing a long blood feud, and leads to another Look and Tremble death.

Ageless Sol Cahoon relives violent tales of the "the heathen." Chance and his boyhood friends seek the "Ghost of Look and Tremble"-a murdered man walking the dark woods, seeking his head that had been severed by a pocketknife. The Old Man of Ring Jaw warns the boys of real ghosts.

But Ring Jaw bullies Rooster Reddoake and Hunky Hoggen turn a Look and Tremble peanut-boiling night into a hellish nightmare.

A lyrical, poetic portrait of Smalltown West Florida, now vanished, flashbacks in seamless narrative unfold with Civil War ancestors, a brutal 1934 lynching, death of a snake-handling Georgia preacher, snakekillers, foxhunters, whiskeymakers; hard white men honestly befriending blacks sharing their trapped lives. Evoking verdant beauty of Chipola River Country, Jesse Earle Bowden resurrects a generation living by sweat and muscle when the measure of men was surviving bullet-and-blade meanness.

About the Author

Editor emeritus of the Pensacola News Journal, Jesse Earle Bowden was editor-in-chief and vice president of the newspaper for thirty-one years (1966-1997) in an active career spanning fifty years in Pensacola. Since 1983 he has been a faculty associate in the Department of Communications at the University of West Florida, teaching journalistic writing courses for twenty-two years.
Author of eleven books, Bowden wrote The Write Way, An Editor's Guidebook for Students of Writing, a textbook used by students in his University of West Florida classes. The Florida State University journalism graduate collected more than 1,200 of his editorial cartoons and illustrations in the book, Drawing from An Editor's Life, and co-edited The Emerald Coast Review, an anthology published by the West Florida Literary Federation, which installed him in its Hall of Honor. In 1985, University of West Florida awarded Bowden as honorary Doctorate of Humane Letters.
A pioneer of Pensacola's historical preservation movement, Bowden has served as chairman of the Historic Pensacola Preservation Board since 1982, and became president of West Florida Preservation, Inc., when the state board's operations were transferred to the University of West Florida in 1991. The preservation program headquarters is named the J. Earle Bowden Building in downtown Pensacola.
Known as the "father" of Gulf Islands National Seashore for his long editorial campaign to establish the national seacoast park in Florida and Mississippi, Bowden was named an Honorary Park Ranger by the Secretary of Interior. Escambia County Commissioners named the seashore highway on Santa Rosa Island as "J. Earle Bowden Way."

Reviewer: Kathryn R. Cavendish (Tallahassee, FL) This book has a special meaning for me because I grew up in the same town as the author, and have known of his writing abilities for many years.

Reviewer: Angelyn Mobley (Panama City, FL) Jesse Earle Bowden's novel, LOOK AND TREMBLE, presents a vivid account of life in Ring Jaw, a gritty crossroads town in Northwest Florida, during the l940s and l950s. I was struck by the poetic rhythm of his writing, much like the ebb and flow of the river currents he portrays so graphically.

One comes away with the satisfying feeling of watching a boy, Chance Cahoon, grow to manhood in the bosom of a loving family; where he learns about loyalty and love, racism, hate, bullies and cowardice. The town of Ring Jaw is well portrayed, and the characters come alive with all their sterling qualities and damning flaws. One gets to know their kindness and generosity; their cruelty. He brings to mind the gossiping harpies who hate their lives and are stuck in the quagmire of sameness unending, yet are the first to rally when misfortune strikes their neighbors. There are the good churchgoing grannies who organize the cemetery workings and rain disapproval on those who don't attend the yearly ritual. Also, the church dinners on the ground and all day gospel singing under the hand-held fans provided by the funeral parlor.

Chance Cahoon's playmates, Will Buck, Ben Henry Swinnard and RC Hickey, form a tight bond of friendship and share the secrets and ghosts of the river. There is Rattler Ransom, who is rumored to be Chance's father. A rawhide of a man, he is a law unto himself. He keeps his own counsel and is quick to defend that right. The tension builds to near disaster when town bullies, Rooster Reddoake and Hunky Hogan, discover the boys boiling peanuts on the river bank one night and drunkenly attempt to settle grudges against Chance's grandfather, Solomon Chance Cahoon. The low key scene on the river is classic, in the vein of Harper Lee's TO KILL A MOCKINGBIRD; no heroics, only frightened children who stand their ground against their tormentors, and their strength prevails.

Bowden evokes feelings, memories, of growing up in a long ago age, in a town called Ring Jaw, that still maintains the old values of sharing and caring for their neighbors. His love for the river is an integral part of who he is, and he writes from the heart with the nostalgia and love of a native son who learned all he needed to know at his grandfather's knee

LOOK AND TREMBLE is a book you will want to re-read.

Reviewer: Seldon Pierce (Cantonment, FL) Spellbound. That's what happened to my mind after reading the first chapter of this novel by a country Florida boy, now grown to manhood, and putting words on paper that fascinate readers across the world.
Bowden takes actual events from his boyhood memories and fictionalizes them into an overpowering story of murder, terror and ghosts that shadowed his own life, as well as recollections of tales told around the cracker barrel of an isolated country store on rainy days.
The book is a haunting novel of a young man who grew up fatherless in Ring Jaw, and now returns after the death of the man he never knew as his biological father. He encounters spirits from the past that cause him to wonder about his own life.
Bowden has the ability to put words on paper that come alive and take you to the place where he sets the scenes for his story. You see, smell, hear, taste and feel the things he felt when he wrote the novel.
If you like adventure, mystery and a life-changing experience, I highly recommend Look and Tremble.

Reviewer: Ginny Graybiel (Pensacola, FL) Set in the Panhandle of Florida several decades ago, this novel gives a gripping account of violence, race and coming of age in a small town. Jesse Earle Bowden, who was editor of the Pensacola News Journal for 31 years, writes with the authority reserved for someone who was there. The story revolves around the secrets of a nearby river that offers up boyhood memories, a headless man, ghosts and, eventually, a modern-day murder. The book is a flashback in time that will appeal to West Floridians as well as just about anyone who wonders how things once were.
Title of the Month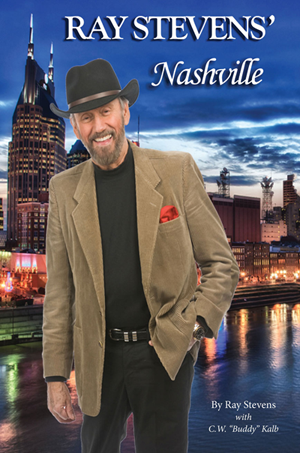 Ray Stevens' Nashville is the story of a Nashville legend who has seen many changes during the last fifty plus years. Ray takes us along on his American Dream journey from the little mill town of Clarksdale, Georgia, where he was born, through his school days in south Georgia, to his early recording experience with friends like Jerry Reed and Joe South in Atlanta under the tutelage of Bill Lowery. Then, on to Nashville– Music City USA–where he established himself as not only a world famous recording artist but, as one Nashville star recently said, as "The most talented man on Music Row."
Author : By Ray Stevens with C.W. "Buddy" Kalb
Category : Inspirational Books
ISBN : 9781935802228
Price : $ 19.95