BROWSE


Cook Books

Inspirational Books

Children, biography




We Accept Credit Card Payment




Loved at First Sight: A Mother's True Story of Eleven Adopted Children


Author :
Marilyn Diskerud
Category :
Other
ISBN :
0-942407-52-0
Price :
$ 21.95
Pages :
296
Add to Cart...

This is a heartwarming story of a couple who adopted eleven children. After being told that it would take a miracle for them to conceive, they chose to adopt again and again. They adopted babies, older children, and their siblings too.

They proved that a stable, loving home filled with caring, sharing, and a sense of humor was what their children needed. It taught them to love their sisters and brothers. As a family, they enjoyed many trips, vacations, and sports activities with each other and their many friends.

There were often difficult times of alcohol and drug abuse, runaways, and legal problems. But with many prayers and a bedrock belief in God to give them strength, they were able to see all their children become adults. Also, miracles happened when there were serious illnesses and terrible accidents. Thank Heavens for all the prayers!

Today, as then, there are many children who need loving homes. All they are looking for is someone to unconditionally love them forever. This couple shows with enduring love how they managed during fifty years of marriage and a house-full of children. Those considering adoption need not be wealthy, only to have large hearts. Strange as it may seem, adopting a child or children more often brings as much joy and happiness and rewards to those adopting as it does to those who are adopted.

About the Author

Marilyn Diskerud has always loved children and felt blessed that God chose her to be an adoptive mother. She was born in 1929 and married Phil in 1949. They adopted their first child in 1954 when he was three months old and adopted their last set of two older brothers in 1982.

She retired after 12 years from her drapery business, "Marilyn's Draperies," in Minnesota. Her husband retired from FMC in Minneapolis after working for 35 years. In 1984 they moved to Florida with five of their children still at home.

Marilyn Diskerud wants everyone to know that "if my book encourages even one family to adopt a child or two, especially those who are older children, then all my efforts in writing this book will have been rewarded. Everyone needs a loving family."

Reviews:

"A fascinating diary as fast paced as a home video, filled with dedication, sacrifice and devotion of a man and woman for the children they loved. Generosity at it's most amazing." M.L. Olson, Editorial Writer, BEACHLIFE

"I have known Phil and Marilyn Diskerud for many years and have always been impressed with their dedication to Special Needs Adoption Children. If this book inspires even one family to adopt a special needs child, it has my blessing." Jon R. Parsons, Executive Director, The Children's Home, Inc.

Review: LAR(United States) This is a wonderful story, that in my opinion, isn't meant as a "guide" to parenting or adoption, however it is a look into how rewarding adoption can be. For those unable to have biological children, this book proves that the happiness and joy of having a family can be achieved. My hats off to this fine couple who provided a loving and happy home to their children and perhaps given hope to many.

Reviewer: Errin Bloodworth -Marilyn is my grandmother. I read the book about my family. Half of the stuff that was in this book I didn't even know about. What was very interesting was finding out more stuff about my mom. I really love my grandmother for writing this book

Reviewer: Marolyn Seanor-Whether the reader is an adoptive or biological parent, this book is a 'must' for lessons in compassion, bonding and real love for kids. It took a lot of courage to bare the true, intimate lives of this couple and their eleven children. The reader will laugh, cry, and recognize the situations and problems that arise in families. I wish I had this book when my kids were younger; it would have helped me in many ways.
Title of the Month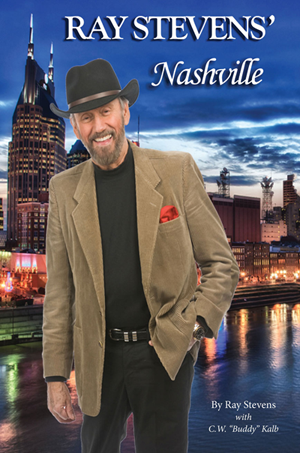 Ray Stevens' Nashville is the story of a Nashville legend who has seen many changes during the last fifty plus years. Ray takes us along on his American Dream journey from the little mill town of Clarksdale, Georgia, where he was born, through his school days in south Georgia, to his early recording experience with friends like Jerry Reed and Joe South in Atlanta under the tutelage of Bill Lowery. Then, on to Nashville– Music City USA–where he established himself as not only a world famous recording artist but, as one Nashville star recently said, as "The most talented man on Music Row."
Author : By Ray Stevens with C.W. "Buddy" Kalb
Category : Inspirational Books
ISBN : 9781935802228
Price : $ 19.95