BROWSE


Cook Books

Inspirational Books

Children, biography




We Accept Credit Card Payment




Sea Tunes for Kids, CD


Author :
Brent Holmes
Category :
CD
ISBN :
0-9719357-0-X
Price :
$ 14.95
Playing Time :
60 minutes
Add to Cart...

Sea Tunes For Kids contains 12 fun and educational songs about many types of sea animals. These include Walrus, Whales, Porpoises, Sea Otters, Lobsters, Horseshoe Crabs, Seahorses, Squid and more! Written and performed by Brent Holmes and produced by Emmy nominee Dave Hoffner, this CD contains some of the silliest and some of the prettiest children''s songs ever recorded. "Billy The Squid" and "Wally The Walrus" make their singing debuts on this CD. The CD version contains two educational spoken tracks: "Fun Facts About The Ocean" and "Fun Facts About Sea Life". Lyrics enclosed.

1. When You Find A Manatee In Your Bathtub
2. The Walrus Song
3. The Lobster Parade
4. The Horseshoe Crab & The Seahorse
5. Billy The Squid
6. Out On The Coral Reef
7. The Porpoises And The Pirate Ship
8. The Hammerhead Shark & The Sawfish
9. At The Aquarium
10. The Humpback Whales Are Blowing Bubbles
11. Sammy The Salmon
12. Moontides
13. Fun Facts About The Oceans
14. Fun Facts About Sea Life

About the Author

Brent Holmes is a singer, a songwriter and a humorist. He lives near Nashville, Tennessee on a pleasant piece of land which he shares with one horse, one cat and two sheep. His humorous songs have been recorded by Ray Stevens, Jerry Clower, Minnie Pearl and Williams & Ree.

Reviewer: (Florida) I highly recommend this cd. I am a marine educator and a mom. I've used this cd both in my job and at home and kids/adults of all ages love it. The songs are fun, easy to sing along with, and educational. Kids don't even realize they are learning while listening. Also, proceeds help support a non-profit organization.

Reviewer: Pidge McGee -We purchased this after getting Moose Tunes as a gift (which is great). My son was about 1 ½ at the time. He absolutely loves this. And I couldn't believe that I actually like listening to it myself. The songs are very catchy, and done well. Some are upbeat and fun, while a few are calm and soothing. He listens to this every night while going to sleep. It was a life saver on a 5 hour road trip last summer.

Reviewer: J.E. Smith (Seattle,WA)This is a great cd packed with playful tunes for youngsters. The music is catchy but not annoying for adults nearby. My toddler and his friends love it! I play it at least 5 times per week...much better than having Barney in the background!
Title of the Month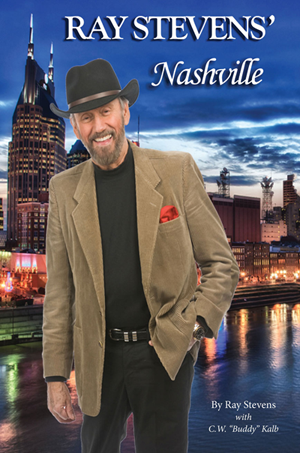 Ray Stevens' Nashville is the story of a Nashville legend who has seen many changes during the last fifty plus years. Ray takes us along on his American Dream journey from the little mill town of Clarksdale, Georgia, where he was born, through his school days in south Georgia, to his early recording experience with friends like Jerry Reed and Joe South in Atlanta under the tutelage of Bill Lowery. Then, on to Nashville– Music City USA–where he established himself as not only a world famous recording artist but, as one Nashville star recently said, as "The most talented man on Music Row."
Author : By Ray Stevens with C.W. "Buddy" Kalb
Category : Inspirational Books
ISBN : 9781935802228
Price : $ 19.95