BROWSE


Cook Books

Inspirational Books

Children, biography




We Accept Credit Card Payment




Southern Bread Winners


Author :
Linda G. Hatcher
Category :
Cookbooks
ISBN :
0-941162-12-5
Price :
$ 9.95
Pages :
200
Add to Cart...

A delightful book to answer all the family's bread needs from biscuits to yeast breads; cinnamon buns, fritters, cornbread, muffins, sweet breads and more. Delicious but easy recipes for every occasion.

Excerpt from Southern Bread Winners:
Southern hospitality has always been linked with food, the meal itself, as well as the fellowship around the table. One of the south's specialties has always been the wonderful and distinctive breads it has produced. In past generations no meal was considered complete without a platter of fluffy biscuits or golden corn bread. Light, fluffy biscuits, cornbread, and muffins have become a Southern trademark.
These breads that are so apart of our Southern culture are being made less and less from scratch. With such an abundance of mixes, prepackaged foods, and ready baked goods many of today's cooks go the "quick and easy" way. In the busy life style and rushed pace of today everyone has to take the speedy method at sometime-but no one needs to all of the time.
This book is packed with delicious breads and many are quick and easy. Fill the house with the aroma of fresh breads. Delight your family with this labor of love. Try these Southern winning recipes-BREADWINNERS. It will be fun and rewarding, so roll up your sleeves, put on your apron, and let's get started.

About the Author

Linda Hatcher received an Associate degree in Home Economics at Abraham Baldwin College and a Bachelor of Science in Home Economics Education from the University of Georgia. She has served as a Home Economist with the Georgia Extension Service, taught Home Economics, and is presently teaching Food Services at Dougherty High School. She has given home economics related demonstrations to various clubs, taught cooking schools, given cooking demonstrations on television, worked with 4-H, VICA, and FHS/HERO clubs, written a weekly newspaper column.

Linda has a great interest in cooking. During her years as a homemaker, when her children were young, she enjoyed creating original recipes and entering cooking contests. She has been a winner in local, state, and national cooking sweepstakes. Her children, Brian and Ashley, have also enjoyed entering and winning cooking contests. Many of their award winning recipes are featured in this book.

Linda has been able to put into action a great deal of what she has taught with her family. Linda, Al, her husband, and their children, Ashley and Jonathan make their home in Albany, Georgia. Brian, their oldest son is serving as a hospital corpsman in the United States Navy.
Title of the Month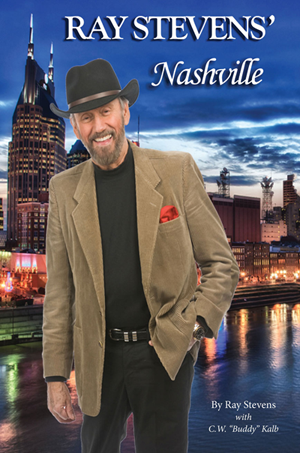 Ray Stevens' Nashville is the story of a Nashville legend who has seen many changes during the last fifty plus years. Ray takes us along on his American Dream journey from the little mill town of Clarksdale, Georgia, where he was born, through his school days in south Georgia, to his early recording experience with friends like Jerry Reed and Joe South in Atlanta under the tutelage of Bill Lowery. Then, on to Nashville– Music City USA–where he established himself as not only a world famous recording artist but, as one Nashville star recently said, as "The most talented man on Music Row."
Author : By Ray Stevens with C.W. "Buddy" Kalb
Category : Inspirational Books
ISBN : 9781935802228
Price : $ 19.95