BROWSE


Cook Books

Inspirational Books

Children, biography




We Accept Credit Card Payment




Dining in the Garden of Good Eats


Author :
Deborah and Shane Sullivan
Category :
Cookbooks
ISBN :
978-0-942407-81-5
Price :
$ 24.95
Add to Cart...

Dining in the Garden of Good Eats features recipes from award winning Savannah restaurants, cafes, inns, along with those from the NOGS (those that choose to stay North of Gaston Street), The Married Women's Card Club and many other purveyors of their famous cuisine. Now you can take the flavor of Savannah home with you to enjoy forever.

A valuable guide to entertaining, this book allows you to serve the recipes of celebrated Savannah chefs, making you a success with your own guests. Some of the participating restaurants included in the book are: Lady and Sons featuring Paula Deen of The Food Network, Elizabeth's on 37th Street, Clary's - a local favorite, and two of Savannah's oldest and most famous restaurants, The Pirate's House and Mrs. Wilkes Boarding House.

The book also serves as a handy visitor's guide as you walk the historic streets where local points of interest are highlighted on a convenient tour map. Learn about historic Savannah, Georgia along with the Savannahian traditions, such as the history of "The Birdgirl Statue", the former centerpiece of the Trosdal family plot in the legendary Bonaventure Cemetery. This cookbook features many fun facts and trivia taken from the best-selling book and motion picture, Midnight in the Garden of Good and Evil, by John Berendt, which influenced the publishing of this fine cookbook.

The authors compile highlights from top "Midnight" attractions and present creative ideas for your own "Midnight" theme party and this unique book even records ghostly sightings from many visitors of the most haunted places in Savannah. As a recent customer said, "It's like a mini-sequel to "Midnight."

This cookbook is a must read for those who love good food and are interested in the history of one of the most beautiful Early-American cities.

About the Author

Deborah Sullivan



In the early part of the 1990's Deborah opened a small shop on the garden level of The Hamilton-Turner Mansion selling various items from artist in the Savannah area. Then in March of 1994, visitors came to Savannah looking for attractions and souvenirs relating to the landmarks from the movie based on John Berendt's best selling novel, Midnight In The Garden Of Good And Evil. In those days, there were few souvenirs with this theme so as tourist came to her shop in The Hamilton-Turner House, they seemed delighted to find someone who would talk about the "Midnight" book and movie. Deborah remembers spending hours chatting with visitors about Savannah, the city's history and her fellow Savannahians. Most of them wanted merchandise and souvenirs relating to "The Book" which did not exist at that time. So, Deborah went to work designing quality souvenirs and gift items and researching companies about her ideas. Deborah spoke with tour companies about the need of organizing tours centered on the theme and popularity of "the Midnight book." For a while no one seemed interested, but Deborah persevered and now there is a successful "Midnight Tour" and an expanded line of "Midnight" souvenirs and high-end gifts likewise.
Deborah is a member of The Junior League, has worked on The Small Business Counsel, the Chamber of Commerce task force for tourism, was a runner-up for Entrepreneur Of The Year in 1997, and is in Who's Who in Business for 2005. She has been a member and active in support of the Friends of Bonaventure, Friends of the Johnny Mercer Inner City Night Shelter, a teenage runaway home and is a member of Ardsley Park Baptist Church, where she has held many positions.
Deborah has a real love for her family and feels that Savannah is a great place to live. Deborah says, "the older I get, the more charming it becomes." From living, working, shopping, dining out, and fellowship with others in our beautiful squares, I feel blessed to be a Savannahian and love sharing Savannah with others." From the moment visitors stroll into The Shop, Deborah and her staff become a part of the visitor's vacation memory. "We do whatever we can to make their vacation to Savannah special and cherish the time we can become a part of their wonderful memory."



Shane Sullivan



The most meaningful thing for Deb and I is family time. Whether it's birthdays or holidays it is important that these times are shared with our loved ones. Our children's birthdays were always very special and years later, our nieces and nephews still recall Shane, Jr. and Stephanie's birthday parties. Likewise, our families always look forward to the holidays. Fortunately, both our parents live in Savannah and in close proximity to each other, so we are able to share Thanksgiving with both families.
Now, we are making a tradition of going to the mountains of North Carolina, Tennessee or Virginia for the Christmas holidays with the entire Sullivan clan, which is not always an easy task since we need accommodations for a group of 20 or more. Every family member gets the chance to prepare their favorite Christmas fare on these family get-a-ways. Whether it's Belgian waffles, chicken casserole or just beans and franks, we all have fun cooking, eating and just being with family. We love to spend time in the mountains and treasure lots of fond memories of our family holidays.
Deborah and I certainly hope you enjoy this cookbook as much as we have enjoyed putting it together. Please share your thoughts and ideas with us. In closing, remember to invest the time to make your own memories with loved ones as it is never too late to start.
Title of the Month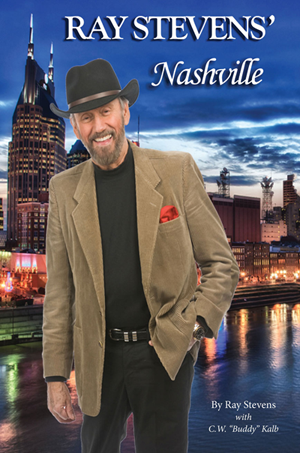 Ray Stevens' Nashville is the story of a Nashville legend who has seen many changes during the last fifty plus years. Ray takes us along on his American Dream journey from the little mill town of Clarksdale, Georgia, where he was born, through his school days in south Georgia, to his early recording experience with friends like Jerry Reed and Joe South in Atlanta under the tutelage of Bill Lowery. Then, on to Nashville– Music City USA–where he established himself as not only a world famous recording artist but, as one Nashville star recently said, as "The most talented man on Music Row."
Author : By Ray Stevens with C.W. "Buddy" Kalb
Category : Inspirational Books
ISBN : 9781935802228
Price : $ 19.95