BROWSE


Cook Books

Inspirational Books

Children, biography




We Accept Credit Card Payment




Drawing From an Editor's Life


Author :
Jesse Earle Bowden
Category :
Other
ISBN :
9780942407846
Price :
$ 19.95
Pages :
8x11, 472 pages
Add to Cart...

Earle Bowden's Drawing From an Editor's Life: More than Forty Years of Editorial Cartoons, Caricatures and Illustrations, Pensacola News Journal, 1950s-1990s

Art and text by Jesse Earle Bowden
November 1996 publication
1,250 drawings

It's rare for a newspaper editor to draw his own editorial cartoons. But Editor Emeritus Jesse Earle Bowden of the Pensacola News Journal has been his own cartoonist for 55 years.

The politics, personalities and many editorial page crusades of the retired News Journal Editor and vice president, chairman of the editorial board and cartoonist—more than 1,250 cartoons and caricatures from more than forty years at the drawing board—spill over 472 pages of this historic graphic treasure. The journalist/illustrator presents drawings from his sportswriting /cartooning years of 1950s to more than thirty years of his editorial-page cartoon commentary from the early 1960s to the 1990s.

Among the many humorous and satirical images are the strong symbolism of the American heritage and patriotism and the native Floridian's devotion to the region of his birth. Here are graphic symbolism of Bowden's many editorial dreams and two-barreled approach to his editorial persuasiveness.

His editorials and editorial cartoons demonstrate his convictions about Gulf Islands National Seashore, Pensacola's historical preservation movement, the Pensacola bayfront and downtown redevelopment, preservation of Scenic Highway, University of West Florida and quality education, the cultural arts and the many emotion-charged battles to reform Escambia County government.

Bowden''s cartoons demonstrates his love of history; he has opened his many scrapbooks of pen-and-ink memories—some drawings never before published—from the presidency of John F. Kennedy to Bill Clinton, from the Florida governorship of Haydon Burns to Lawton Chiles. The cartoon images chronicle the history of the people in the public arena of political change in Florida's First Place City, the western Panhandle, Tallahassee and in Washington.

Along the way, meet many Pensacolians, Floridians and national figures - ably caricatured -from Bowden's sketchbooks who peopled the cartoons that have appeared on News Journal sports, news and editorial pages since 1953. Bowden includes many News Journal personalities from the eras of Publisher Braden Ball and Editor Marion T. Gaines in the 1950s to Publisher Denise Bannister's years of the 1990s.

Besides his text for a historic time line of the four decades—the books show the busy left hand of Bowden—the other serious interest of the journalist, author of eleven books and teacher of writing at the University of West Florida.

About the Author

Editor and vice president of the Pensacola News Journal, Jesse Earle Bowden is a prizewinning editorialist, political cartoonist and illustrator, book author, historical writer, and pioneer of Pensacola's historical preservation movements.

Recognized as the "father" of Gulf Islands National Seashore, Bowden was a charter member of the GINS Advisory Commission and served throughout its existence (1971-1994), frequently as chairman and vice chairman. The National Park Service appointed him an honorary park ranger for his service to GINS.

A charter trustee of the Historic Pensacola Preservation Board in 1967, Bowden has twice served as chairman, the last from 1982 to the 1990s.

Since 1982, he has been chairman of the City of Pensacola's Architectural Review Board. He served eight years (1978-1986) as president of the Pensacola Historical Society.

In 1981, he was general chairman for Pensacola's Galvez Celebration; in 1985, the Florida Trust for Historic Preservation selected him as Florida Preservationist of the Year.

A native of Altha, the Florida State University graduate and chairman of the News Journal editorial board won two national awards for editorial writing from the Freedoms Foundation at Valley Forge.

His artwork has been exhibited in three Pensacola art museum shows and he has conducted cartooning workshops for the Pensacola Museum of Art and cartoon courses for Pensacola Junior College.

He has written eight books and edited the Emerald Coast Review; his writings- fiction, nonfiction and historical articles- and drawings appear in numerous books and publications. He was featured as "An Editor Who Draws His Own Cartoons" in the quarterly Cartoonist Profiles.

An associate faculty member at the University of West Florida, Bowden teaches journalistic writing courses at the Pensacola school which awarded him an honorary degree, Doctor of Humane Letters, in 1985.
Title of the Month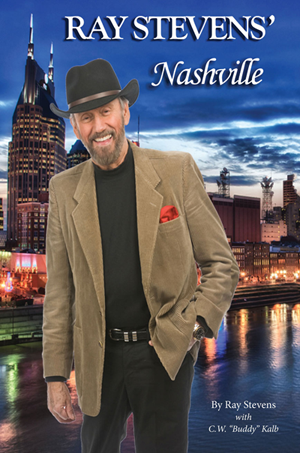 Ray Stevens' Nashville is the story of a Nashville legend who has seen many changes during the last fifty plus years. Ray takes us along on his American Dream journey from the little mill town of Clarksdale, Georgia, where he was born, through his school days in south Georgia, to his early recording experience with friends like Jerry Reed and Joe South in Atlanta under the tutelage of Bill Lowery. Then, on to Nashville– Music City USA–where he established himself as not only a world famous recording artist but, as one Nashville star recently said, as "The most talented man on Music Row."
Author : By Ray Stevens with C.W. "Buddy" Kalb
Category : Inspirational Books
ISBN : 9781935802228
Price : $ 19.95