BROWSE


Cook Books

Inspirational Books

Children, biography




We Accept Credit Card Payment




Successfully Living With Diabetes


Author :
Jacob E Till, Ph. D.
Category :
Other
ISBN :
9780942407853
Price :
$ 12.95
Add to Cart...

The 83-year-old author, Dr. Jake Till, has lived with Type 1 Diabetes 57 years and has been taking insulin for over 54 years. In this book he tells of his personal experiences of living with the disease and how he overcame the difficulties and problems of being a diabetic. He has been on the front lines of service as a United States Air Force Chaplain, a minister, a businessman, a student and an educator. He and Sandra, his wife of over 52 years, are parents of six wonderful children and thirteen grandchildren.

If you are a diabetic or know someone who has the disease, Till presents practical suggestions which will help you enjoy and live a "successful" life while overcoming the health problems associated with uncontrolled diabetes. Dr. Till is living proof that the suggestions in this book really work!



---


For many years I have known Dr. Jake Till and his family and he has been my pastor and dear friend for the past eleven years. During this time I was aware that he was a diabetic and noted how well he took care of himself, carefully monitoring his condition. This book is a "must read" for anyone with diabetes or who has a friend or family member with the disease. Not only does Dr. Till tell what works and does not work from his own experiences, he encourages you every step of the way in dealing with diabetes. He has vast knowledge about this condition and is always eager to help others by sharing that information. Dr. Till is such an encourager and one of the most optimistic persons I have ever met. When you ask Dr. Till how he is doing, his reply is always, "I've got the VICTORY." This is truly the attitude by which he lives his life.

Usually when we think we know all there is to know about a subject, there is much more to be learned. With an open mind, a willing heart and a love for our fellowman, we can accomplish all things through God who strengthens us.

It is my sincere hope that as you read this book you will be uplifted and encouraged to approach each day planning to live it to the fullest. I trust that God will bring you peace, happiness, joy and successful living.

Jane G. Sauls
Leon County Commissioner
Secretary/Treasurer
Fort Braden P. H. Church
About the Author

Jacob Till has been a diabetic for over 57 years. He has been taking insulin for over 54 years. At age 83, Jake is very active, with no health problems other than diabetes. In this book he tells of his experiences of living with Type 1 diabetes and how he has been able to experience a wonderful, successful and happy life in spite of the problems of coping with the disease.

Jake is a minister, educator and businessman. He received a diploma from Emmanuel Junior College, Franklin Springs, Georgia, in 1943, and a Bachelor of Arts Degree from Piedmont College, Demorest, Georgia, in 1945. He then attended the Candler School of Theology, Emory University, Georgia, receiving a Bachelor of Divinity Degree in 1949, which was changed to a Master of Divinity Degree in 1972. He furthered his educational studies and received a Master of Arts Degree in Educational Administration at the University of Nebraska in Omaha in 1956, a Master's Degree in History at Florida State University in 1967, and a Doctor of Philosophy Degree in Counselor Education at Florida State University in 1970.

While teaching at Emmanuel College he was called to active duty from the U. S. Air Force Reserve, as a Chaplain, when the Korean War started in 1950. He was diagnosed as a possible diabetic in 1950. At Burtonwood Air Force Base, England, in January, 1953, Dr. Leon Glenn Barkalow prescribed daily injections of insulin which he has continued since that time.

After a three year tour in England he was stationed at Offutt Air Force Base, Omaha, Nebraska, where he met and married Sandra Davis. They have six children, Reggie, Jake, Larry, John, Tami and Shirley. All of them are in perfect health, very talented, and active in pursuing their careers.

Chaplain Jake Till retired from the Air Force in August of 1964. He and his family went to Quincy, Florida where he was the pastor of the Faith Heritage Church in Quincy, Florida for 26 years. He was on the Superintendent's staff of the Gadsden County Public Schools and retired in January 1990. Presently he is the Senior Pastor of the Fort Braden Pentecostal Holiness Church, near Tallahassee, Florida.
Title of the Month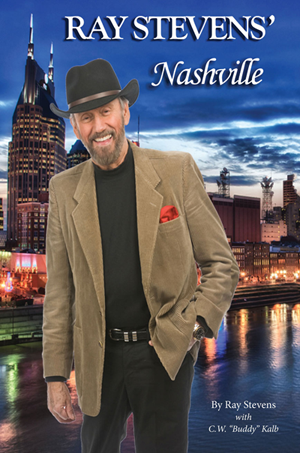 Ray Stevens' Nashville is the story of a Nashville legend who has seen many changes during the last fifty plus years. Ray takes us along on his American Dream journey from the little mill town of Clarksdale, Georgia, where he was born, through his school days in south Georgia, to his early recording experience with friends like Jerry Reed and Joe South in Atlanta under the tutelage of Bill Lowery. Then, on to Nashville– Music City USA–where he established himself as not only a world famous recording artist but, as one Nashville star recently said, as "The most talented man on Music Row."
Author : By Ray Stevens with C.W. "Buddy" Kalb
Category : Inspirational Books
ISBN : 9781935802228
Price : $ 19.95