BROWSE


Cook Books

Inspirational Books

Children, biography




We Accept Credit Card Payment




Hide & Sex: A Social Worker's Journey Through Sordid Cases, Heartbreak and Love


Author :
Betsy Bishop Thomas
Category :
Other
ISBN :
9780942407938
Price :
$ 21.95
Add to Cart...

Sexual molestation of children is a social problem that seems to be increasing in our society. Because sexual predators must have secrecy in order to molest children, the author has chosen the title Hide and Sex since it suggests a child's game with a sinister twist. Although a novel written for easy reading, the book is clinically accurate with authentic social work practices and gives the reader a clear picture of the myriad of cases that Department of Children and Families caseworkers manage on a daily basis. These case histories, though fictional, replicate actual cases of deviant behavior and broken lives. It is also a love story with the reader following a young social worker named Liz through her home visits, court appearances, record keeping and daily routine. As Liz works her way through sordid cases that affect her personal life, the story follows her through unhappy courtships until she meets the love of her life and prepares to marry him. Liz herself has a dark secret she is forced to deal with before she can marry her fiancé, Brin.

Hide and Sex reveals how easily children can become victims of molestation with the goal of educating everyone who cares for children about the need to supervise them carefully at all times. Victims of abuse often feel that they have no control over their own lives or even over their own bodies. They feel that they have no choices available to them. The child knows something is wrong and blames him or herself, not others. The offender will often encourage the child to feel that the abuse is his or her fault and sometimes s/he will feel that s/he is a "bad" person. These children feel anger and betrayal because they are dependent upon adults for nurturing and protection and the offender often is someone who they should be able to love and trust. They may also feel betrayed by a non-offending parent who they feel has failed to protect them.

Children who suffer sexual abuse often become runaways, drug addicts, alcoholics, or prostitutes. Even worse, they sometimes become molesters themselves and some even become murderers. That is why people must be made aware of the heinous crime of sexual abuse and its devastating ramifications. It is the author's hope that Hide and Sex will educate readers about the dangers of sexual predators so they can do their part in protecting children.

About the Author

Betsy Bishop Thomas graduated from Florida State University with a BA degree in Journalism. Betsy was first employed by the State of Florida with the Department of Public Welfare, later to become The Florida Department of Children and Families, where she was trained at the Florida Social Workers' Academy. Later she received her Master's Degree in Public Administration from the University of West Florida.

In her nearly thirty years as a social worker, she was a caseworker in protective services for children, advanced to a supervisor and later a foster care administrator before retiring. During her tenure with Children and Families, she developed the organization, Happy House, Inc., which are shelters for children who had been removed from their families. These shelters were in operation for fifteen years and had hundreds of children pass safely through them when shelter homes were desperately needed.

Betsy grew up on the Florida property her grandfather homesteaded in the 1800s that inspired her writing her first novel Homestead published in 2005. Betsy is married to a retired US Air Force fighter pilot, has two daughters, four stepsons and twelve grandchildren. She lives in the Ft. Walton Beach, Florida area.
Title of the Month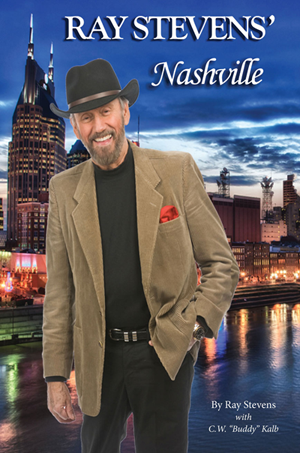 Ray Stevens' Nashville is the story of a Nashville legend who has seen many changes during the last fifty plus years. Ray takes us along on his American Dream journey from the little mill town of Clarksdale, Georgia, where he was born, through his school days in south Georgia, to his early recording experience with friends like Jerry Reed and Joe South in Atlanta under the tutelage of Bill Lowery. Then, on to Nashville– Music City USA–where he established himself as not only a world famous recording artist but, as one Nashville star recently said, as "The most talented man on Music Row."
Author : By Ray Stevens with C.W. "Buddy" Kalb
Category : Inspirational Books
ISBN : 9781935802228
Price : $ 19.95