BROWSE


Cook Books

Inspirational Books

Children, biography




We Accept Credit Card Payment




The Florida Seasons Cookbook


Author :
Jewel Cammarano
Category :
Cookbooks
ISBN :
9781935802037
Price :
$ 19.95
Add to Cart...

The book is presented in five chapters containing recipes for various components of a meal, Beverages & Cocktails, Soups & Starters, Salads & Sides, Main Entrees, and Desserts, each divided into selections for each season of the year. Jewel offers menu selections that are light, fresh and flavorful from Florida's seasonal bounty that is available throughout the year, each researched and written for the rapidly increasing number of health-conscious consumers around the world.

Recipes like Classic Hurricane Cocktail, Creamy Cucumber Soup or Seafood Fritters offer a tantalizing start to any meal. Sumptuous sides from the Florida garden such as Garden Veggie Pasta Salad and Grill-Roasted Summer Vegetables complement a main course with their bright color and natural flavors.

Selections from the sea such as Florida Coastal Crab Cakes, Tilapia with Crispy Coconut-Macadamia Topping, or signature recipes like Key West Grilled Lobster Tails with Sherry-Butter Sauce and Steamed Blue Crabs with Remoulade Sauce are stars for the main course on any occasion.

Dessert lovers will find Creamy Peach Pie made from a new variety of our most flavorful Florida peaches, Coconut Cream Pudding from fresh coconuts and a Tropical Fruit Trifle that can be made any time of the year with Florida's vast array of colorful seasonal tropical fruits. Written in an approachable, conversational tone, with step-by-step instructions given in simple, short, and manageable terms, the 128-page book is a durable laminated hardback with an inside double wire spiral enabling the gourmet to open the book to lie flat at any of the pages. A valuable source for entertaining, it is designed with a consumer-friendly style offering concise step-by-step directions and helpful hints to enable beginners and experienced cooks alike to serve delectable meals to their loved ones and guests.

About the Author

Jewel Cammarano received a Bachelor of Science degree in Nutritional Science from the University of Connecticut and taught foods and nutrition for many years on the secondary level.

In 1989, a move from New Jersey to North Carolina presented a unique retail opportunity for her to own and operate two gourmet shops on the Outer Banks. With no emphasis on local fish, seafood and other regional specialties she published her first cookbook Beach Cuisine: A Collection of Atlantic Coastal Recipes in 1999 Her second book: Lean Beach Cuisine: A Collection of Healthy Coastal Recipes, published the following year in 2000, brings popular recipes from all of our coastal regions into a healthful compilation complete with nutritional analysis designed for the health-conscious cook.

Working as correspondent to various newspapers and free-lance writer for several magazines, she continues to express her love and fascination for regional food patterns. In this work, The Florida Seasons Cookbook, Jewel brings recipes together from the unique ethnic and southern heritage of the state of Florida, where fresh healthful food is produced year round.

Jewel lives in Central Florida with her husband, John, and loves cycling, gardening and cooking for friends and family. She has two grown children and four grandchildren and is currently working on her next publication - a contemporary presentation of traditional recipes from the Appalachian region of our country, where a rich culinary heritage exists.
Title of the Month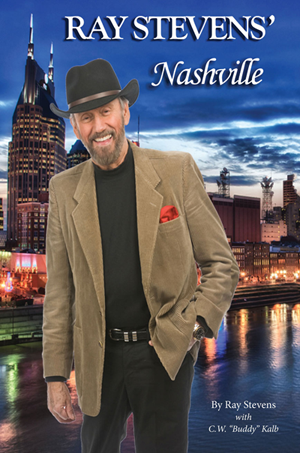 Ray Stevens' Nashville is the story of a Nashville legend who has seen many changes during the last fifty plus years. Ray takes us along on his American Dream journey from the little mill town of Clarksdale, Georgia, where he was born, through his school days in south Georgia, to his early recording experience with friends like Jerry Reed and Joe South in Atlanta under the tutelage of Bill Lowery. Then, on to Nashville– Music City USA–where he established himself as not only a world famous recording artist but, as one Nashville star recently said, as "The most talented man on Music Row."
Author : By Ray Stevens with C.W. "Buddy" Kalb
Category : Inspirational Books
ISBN : 9781935802228
Price : $ 19.95