BROWSE


Cook Books

Inspirational Books

Children, biography




We Accept Credit Card Payment




No Time To Die


Author :
Rev. Dr. Bernyce H. Clausell
Category :
Inspirational
ISBN :
9781935802129
Price :
$ 15.95
Add to Cart...

Rev. Bernyce H. Clausell, born 1916, takes the reader on a journey through 95 years of her fascinating life. To paraphrase the words of poet Robert Frost, in her life, "There have been many diverging roads, some narrow, some wide, some straight, some crooked, some with detours, but I took the road less traveled by and that has made all the difference."

Better known as "Tallahassee's Mother Teresa," Rev. Clausell has given her heart and energy to humanity. She felt her caring and sharing projects were direct assignments from God. Her calling has kept her busy beyond the threescore years and ten referred to in Psalms 90:10. "

The pages of this book reveal the little known facts of service that have kept the tomb empty for 95 years. Death has so far been defeated and she continues to maintain a busy ministry schedule for Jesus. Go with Rev. Clausell through the chapters of her life and you'll understand why there has been No Time To Die.

About the Author

Reverend Dr. Bernyce H. Clausell was born in Georgia, reared in New York and is living out her life in Florida. She is affectionately known by many other names. To those having been touched by her many caring/sharing projects, she is known as The Black Mother Teresa. To those who are imprisoned, she is known as The State Mother of Prisons. To the fellow clergy and hundreds under her pastorate, she is The Reverend Mother and Pastor Emerita. To her two daughters, Mary and Aaronetta and many others who have adopted her as their mom, she is M 'dear. To her grandchildren she is Grand M'dear and Grandma Gar. To her beloved husband, Rev. Dr. James Aaron Clausell, she was lovingly known as Honey.

The ten flag salute presented six years ago at her 88th birthday, gives a chronology of her life. The flag of United States represents the fact that she is an American born citizen in the year of 1916. The flag of Georgia denotes her birth in McDuffy county, Georgia, city of Thomson. The flag of New York represents her early rearing in New York City by her Aunt Mattie. The Christian flag represents her surrender to Christ at an early age and professing at the age of 16 that she would be a preacher someday. The flag of the state of Florida represents her marriage to Rev. James Aaron Clausell of Florida where she began her life as a preacher's wife. The flag of Fla. A&M University denots the earning of her bachelors degree in 1956 and her Master's degree in 1961. The Calvary Baptist church flag represents the fact she was the co-founder along with her husband of this church in 1957, succeeding him as pastor in 1977. The flag of the state of Mississippi denotes her famous pilgrimage and Sharing/Caring mission to the poorest city in the United States at that time, Tunica/Sugar Ditch, Mississippi. The Flag of Tallahassee Community College represents the fact that Rev. Clausell was honored in their third publication of the Black History calendar for her community service as a civic leader, organizer, educator and religious leader. The tenth flag is the birthday flag which currently would represent 94 years of precious life.

Rev. Bernyce Clausell is a staple, stalwart, steadfast and consummate community servant; standing in the gap, trenches, and putting herself on the line for mankind, while simultaneously proclaiming God's goodness for humanity.

"God's love and the love of people keep me working and preaching with vigor and vitality." "Love will always be my lifeline." These are words of one very extraordinary woman, a nonagenarian, who remains very active and has NO TIME TO DIE.
Title of the Month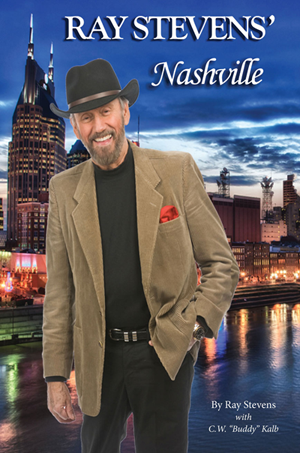 Ray Stevens' Nashville is the story of a Nashville legend who has seen many changes during the last fifty plus years. Ray takes us along on his American Dream journey from the little mill town of Clarksdale, Georgia, where he was born, through his school days in south Georgia, to his early recording experience with friends like Jerry Reed and Joe South in Atlanta under the tutelage of Bill Lowery. Then, on to Nashville– Music City USA–where he established himself as not only a world famous recording artist but, as one Nashville star recently said, as "The most talented man on Music Row."
Author : By Ray Stevens with C.W. "Buddy" Kalb
Category : Inspirational Books
ISBN : 9781935802228
Price : $ 19.95