BROWSE


Cook Books

Inspirational Books

Children, biography




We Accept Credit Card Payment




Henley Family History


Author :
Edward "Glynn" Beach
Category :
Other
ISBN :
978-1-935802-41-09
Price :
$ 57.00
Add to Cart...

The Descendants of Richard Henley and Sarah Darby is dedicated to the members and descendants of the Henley family whose family members cooperated in providing family history, stories, notes, lineage and photographs. Sir Winston Spencer Churchill once said, "History with the flickering lamp stumbles along the trail of the past, trying to reconstruct its scenes, to revive its echoes and kindle with pale gleams the passion of former days."

This book is also dedicated to the Henley family all the way back to the Puritans and immigrants who came to the "New World" because of religious persecution and oppression, seeking an opportunity to improve their lifestyles. May we never forget our past, good or bad, for our past is the gateway to our future.

A family history is an endeavor in which every member can be of assistance in providing the most accurate record of the family that can be compiled. As you climb the Henley genealogy tree, you will discover some branches are strong and hardy, while others are fragile and weak. Our goal is to find the branch which supports our family and build upon it, nourish it and record as much accurate history about the Henley Family History as we can discover.

About the Author

I've never attempted to author a book before, but I see a need to preserve family history. Today family values along with family units are falling apart. My name is Edward Glynn Beach, born April 13, 1946 in Blakely, Early County, Georgia. My genealogical connection to the Henley family is through my mother Edna Earl Henley Beach born December 7, 1922 in Miller County, Georgia.

After graduating from High School in 1965, the Vietnam conflict was escalating. I was inducted into the US Army, attending basic training at Ft. Benning, Georgia. While there I volunteered and was approved for Special Forces (Green Beret) training. Upon completion of AIT (Advance Infantry Training) at Ft. Leonard Wood, Missouri and airborne training at Ft. Benning. I finally was headed to JFK Special Warfare Center at Ft. Bragg, North Carolina for Special Forces Training. After successfully completion I was assigned to Company C, 6th Special Forces Group at Ft. Bragg. My fiancé' Linda E. Brunson and I decided to get married while stationed at Ft. Bragg. Upon receiving my discharge, Linda and I returned home to Quincy, Florida. I enlisted into the Florida Army National Guard to continue to satisfy my military obligation and was employed with the Quincy Police Department for thirty eight years.

During this time period I obtained a BS degree from Florida State University and a graduate of the FBI National Academy, class 159. I received my commission as a Second Lieutenant, eventually working up to and retiring as a Lieutenant Colonel with over 33 years military service.

After retiring from the Quincy Police Department and the Florida Army Nation Guard I continued my service in Law Enforcement by serving as Police Chief with the Havana Police Department for six years. I take this opportunity to thank my wife for her moral support in managing two careers. But I also thank her for her leadership role in managing the household while I was away on assignments.

I hope you will continue the discovery and documentation process to fully appreciate your own unique family heritage. Combining the information you record with the information in your book guarantees a family heirloom for now and for the future.
Title of the Month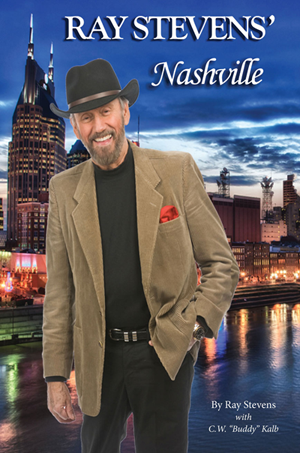 Ray Stevens' Nashville is the story of a Nashville legend who has seen many changes during the last fifty plus years. Ray takes us along on his American Dream journey from the little mill town of Clarksdale, Georgia, where he was born, through his school days in south Georgia, to his early recording experience with friends like Jerry Reed and Joe South in Atlanta under the tutelage of Bill Lowery. Then, on to Nashville– Music City USA–where he established himself as not only a world famous recording artist but, as one Nashville star recently said, as "The most talented man on Music Row."
Author : By Ray Stevens with C.W. "Buddy" Kalb
Category : Inspirational Books
ISBN : 9781935802228
Price : $ 19.95