BROWSE


Cook Books

Inspirational Books

Children, biography




We Accept Credit Card Payment


| | |
| --- | --- |
| | Children, biography Details |


Misguided Katy: Learning Kindness


Author :
Katherine West Eaton
Category :
Children, biography
ISBN :
978-1-935802-44-0
Price :
$ 13.95
Add to Cart...

Misguided Katy books are children's books written to build good character traits. Boys and girls will learn through Katy's experiences expressed with humor, misguidedness and an array of emotions. The series of books are based on the author's life as a child growing up in East Tennessee. The stories are a hybrid between the past and modern day to be more relatable to girls as well as boys. The optimal age for reading these books is kindergarten through third grade.

Katy plans a revenge plot against her older sisters with Morris, her frien learns kindness produces better results. Children will easily relate to the way Katy and Morris, are guided to show kindness and respect.

Reviews

As a grandparent, I love the way Katherine incorporates modern day and pre-technology years into her books. Not only does she teach children important values and how to treat others with simple kindness, but she also includes the simples of playing outside.

Cheryl Shine, CPA

What a sweet book for young children to read. The illustrator did a wonderful job portraying the story of Katy and her friends. I adore the lesson Katherine wrote for Misguided Katy to learn about kindness. Aside from learning about kindness, today's young children probably don't know about 'mud pies.' I hope this book inspires children to be kind and to get out and play in the dirt – But only to have fun and not to be mischievous s Katy attempted to do.

Kellie Brewer, Graphic Design Project Manager

About the Author

Katherine Eaton grew up in East Tennessee, the location in most of her children's book series. Her main character, Katy, is based on her adventures and life lessons learned as a young girl there. She moved to North Texas in 1980, where she met her husband of 37 years. They have three children, two grandsons, and are support grandparents to three African American boys.

Katherine retired her Radiological Technologist registry after moving to North Florida in 2002, where she began her career in the educational field, retiring in May 2017. While working in the elementary school, she had opportunities to instruct and interact with students in Pre-K, the media center, guidance office, clinic and as the mentor/mentee coordinator. One of her favorite times with the students was reading to Pre-K and media center classes. She now volunteers to read at two elementary schools.

Katherine is also a writer of a devotional blog and author of two devotional eBooks. The first book in her children's book series is Misguided Katy: Leaning Compassion.
Title of the Month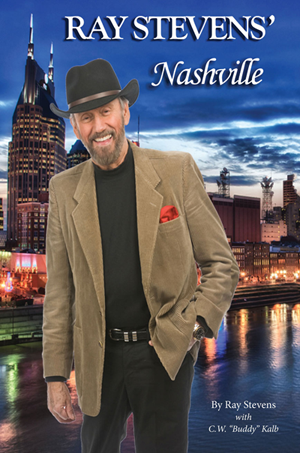 Ray Stevens' Nashville is the story of a Nashville legend who has seen many changes during the last fifty plus years. Ray takes us along on his American Dream journey from the little mill town of Clarksdale, Georgia, where he was born, through his school days in south Georgia, to his early recording experience with friends like Jerry Reed and Joe South in Atlanta under the tutelage of Bill Lowery. Then, on to Nashville– Music City USA–where he established himself as not only a world famous recording artist but, as one Nashville star recently said, as "The most talented man on Music Row."
Author : By Ray Stevens with C.W. "Buddy" Kalb
Category : Inspirational Books
ISBN : 9781935802228
Price : $ 19.95